Best value
Malwarebytes Premium 1 Device + 1 Year Validity Auto-Renewal Keys
Pay by: PayPal, BHIM / UPI, Paytm, Google Pay, Bitcoin
Product Details
Brand: Malwarebytes
Media Type: Download
🏆 Malwarebytes Premium 

1 Device + 1 Year Validity

 Auto-Renewal Keys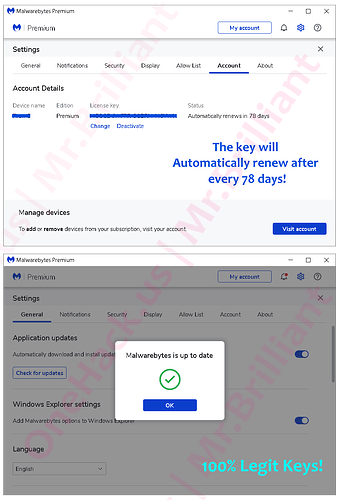 Our keys are not like any other shitt 

 blocky or non updatable lifetime keys that gives error notification on applying. 

Key will be 100% legit, just like any other normally purchased key from the official website. 

Provided key will have either 

below 60 or above

 auto-renewal days status & it will auto-renew on its own after every set status period, so you don't have to worry, as 

it will be valid for 1 Year!

What you will receive from us!
A key! 

PayPal | BHIM / UPI | Paytm | Google Pay | Bitcoin
Refund Policy
If you get stuck, no problem! We here to solve your problem, if we fail, we will refund you.
Note: We never resell the same key to anyone, because 1 Device Limit on every key, It is not possible for us to resell it.